OPMONis Release v2.1.2 is available
New OPMONis Version is available: v2.1.2
For you, our customers, we constantly improve OPMONis and of course fix known bugs, so that you can continue to rely on the usual high quality and security of OPMONis.
A problem that occurs sooner or later with all UPSs is that the battery goes flat. OPMONis can now query the battery status and inform you if the battery needs to be replaced or has already failed.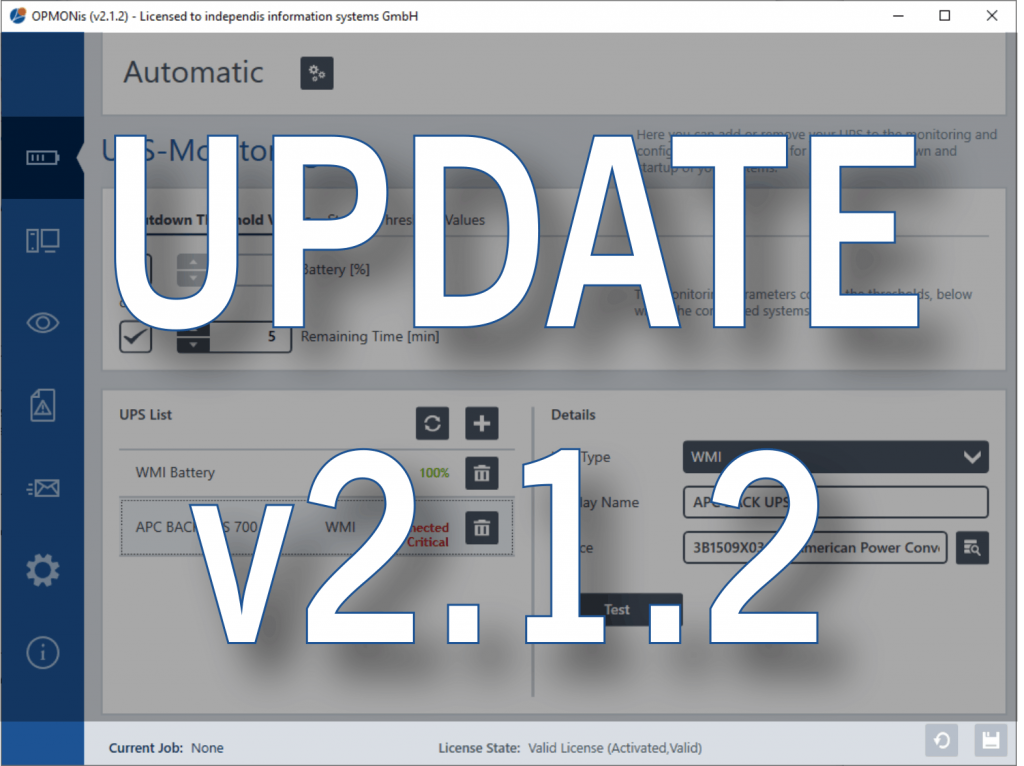 Changes
With the available release v2.1.2 you get the following fixes and a new feature:
New Feature: Monitor the health of your UPS and notify you when the battery needs to be replaced or is defective.
Unfortunately, this only works for network attached UPSs, as our tests have shown that Windows does not reliably report the battery status for USB connected UPSs via WMI.
Bug fixed: The new feature "Auto Startup" did not work because an incorrect licence query blocked this new feature.
What has changed in OPMONis? Look into the Release Notes.
We are looking forward to protect your systems against a power blackout.
Licensing
Information about licensing and pricing can be found here: Licensing
https://opmonis.com/wp-content/uploads/2023/02/Opmonis_Logo_340_156.png
0
0
Frank Scherer
https://opmonis.com/wp-content/uploads/2023/02/Opmonis_Logo_340_156.png
Frank Scherer
2021-02-16 08:35:26
2023-01-05 12:06:40
OPMONis Release v2.1.2 is available