Activating SNMP for APC PowerChute Business Edition
How to Activate SNMP for PowerChute Business Edition
The software "APC PowerChute Business Edition", delivered by the manufacturer APC, is able to provide the actual state of your UPS by SNMP, even if your UPS is connected by USB cable.
Our Standard OPMONis license is supporting the SNMP call for the actual State by SNMP. This way the problem caused by the APC drivers can be bypassed (The APC driver is actually blocking WMI call for actual state of an UPS). This means, with these settings you can continue using the APC drivers and still use runtime calibration and self-testing features of your APC UPS.
Following steps are needed to activate SNMP:
1) Install the Windows feature "SNMP-Service" (only for Windows Server Systems)
For this you need to start the Windows Server-Manager select "Add Features Wizard" and check (add) the SNMP Service: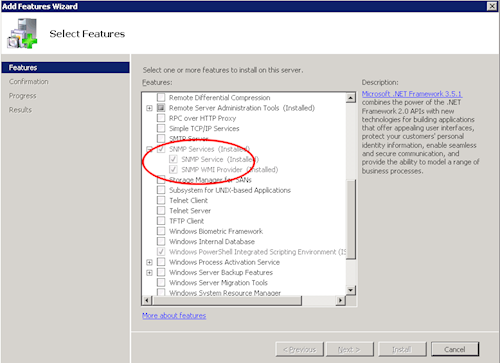 2) Set the SNMP Community String
Open the Service Manager (search for "services.msc") and select the "SNMP Service". Here you can add under the label "security" a new "accepted community name" with the name "public" and READ ONLY rights.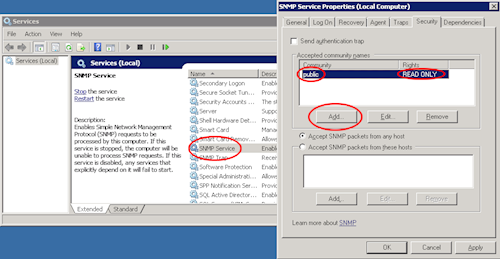 3) Open your APC PowerChute Business Edition software and activate the SNMP communication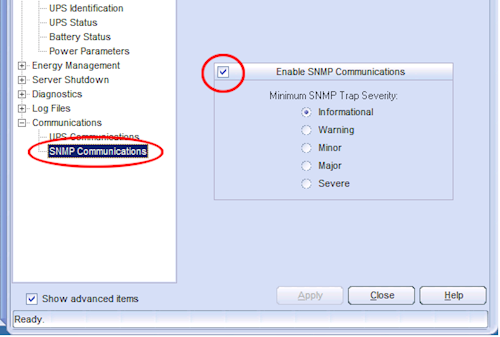 https://opmonis.com/wp-content/uploads/2023/02/Opmonis_Logo_340_156.png
0
0
Frank Scherer
https://opmonis.com/wp-content/uploads/2023/02/Opmonis_Logo_340_156.png
Frank Scherer
2017-02-10 15:31:05
2022-11-21 13:47:41
Activating SNMP for APC PowerChute Business Edition